Alain Delon is arguably one of Europe's most instantly recognizable faces.
The legendary French actor, now 87 years old, is also a producer and director, boasting an enviable career spanning over half a century…
Yet to ask him, his proudest achievement might be his three children. Hard it might be to believe, one of his sons is now all grown up, and has inherited his famous dad's gorgeous looks …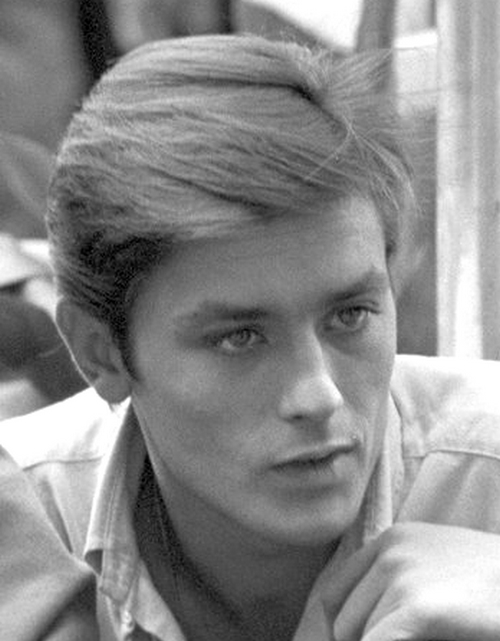 Alain Delon is undoubtedly one of the most adored and sought-after faces in the history of cinema.
Thanks to his signature piercing blue eyes and natural French charm, Delon made an entire generation dream.
Indeed, he continues to do so today, successfully captivating new generations and reminding the world just why he's been able to remain relevant and much-loved over so many years.
Alain Delon – Early days
The superstar was born on November 8, 1935, in the French town of Sceaux, in the Hauts-de-Seine, the area covering Paris's inner suburbs.
After his parents' divorce, his mom sent Alain to live with a foster family. Later, he would spend his adolescent years attending different boarding schools and institutions.
He then finally decided to enlist in the French Navy and was subsequently sent to serve in Indochina.
Upon returning to France, he worked in a variety of different jobs including as a bellboy, clerk, and waiter, before choosing to move to Rome.
Among his first successful movie was 1958's Be Beautiful But Shut Up with legendary French actor Jean-Paul Belmondo.
That same year he played in Christine, where he met Austrian sensation actress Romy Schneider, with whom he would have a relationship that was loved by the public. Purple Noon, a 1960 adaptation of Patricia Highsmith's novel The Talented Mr. Ripley, was lauded by critics and credited as Alain's first major role.
Alain Delon – European success
Delon began to achieve global stardom in the early 1960s after a fateful encounter with Italian neorealistic director Luchino Visconti, who chose Alain as the main character in 1960s Rocco and His Brothers. The film became an instant hit worldwide.
Not only that, but Delon's celebrated work with Visconti paved the way for a series of collaborations with renowned Italian directors.
In 1962, he played alongside Italian actress Monica Vitti in The Eclipse, under the direction of acclaimed Italian director Michelangelo Antonioni. For his role, he won the Special Jury Prize at the Cannes Festival and was nominated for the Palme d'Or.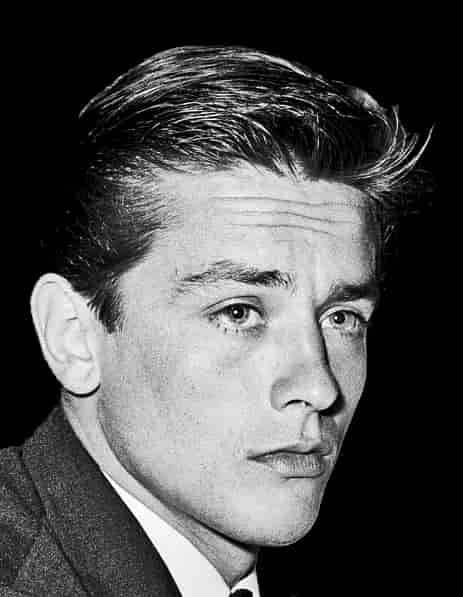 Further international success arrived thanks to his part in the 1963 epic drama The Leopard, once again directed by Visconti. In The Leopard, he plays Prince Tancredi Falconeri, the nephew of an aging Sicilian nobleman (played by Burt Lancaster) caught up in the mid-19th century sociopolitical turmoil of the Italian unification.
In the main, the 1960s were marked by Delon's attempt to make it big in the US; the desirable market for any European actor of that time.
Alain Delon – US
Often typecast as the stereotypical Latin Lover because of his French accent and European looks, Delon landed some small parts in the movie The Yellow Rolls-Royce (1965), which also starred Shirley MacLaine.
After signing with Columbia, Alain appeared in the action film Lost Command (1966), playing a member of the French Foreign Legion alongside Anthony Quinn and Claudia Cardinale. He then starred in a Western, Texas Across the River, opposite Dean Martin. Unfortunately, his work in Hollywood did not bring the French sensation the American stardom he was hoping for.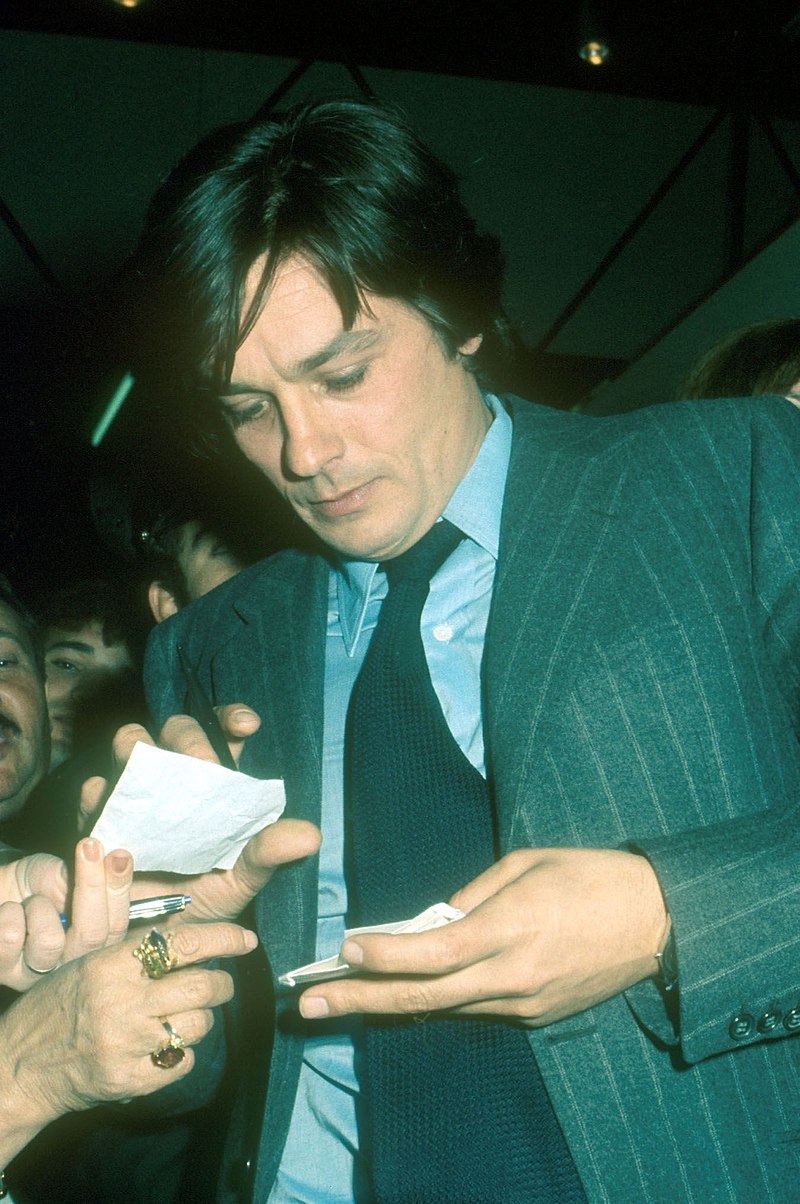 As a result, he decided to return to France, where he featured in another big hit as hitman Frank Costello in Le Samouraï (1967). Delon's performance was a game-changer, going on to define the standard for playing fascinating tough characters.
Later in the 1970s, Delon continued taking roles in the noir/detective genre, appearing in, among others, The Sicilian Clan, Borsalino, and Le Cercle Rouge. Interestingly enough, it was 1975's Zorro that allowed European cinema to be known in Communist China (this was one of the first Western movies shown in the country after the Cultural Revolution), Japan, and Latin America.
Alain Delon – Relationships
Needless to say, like many celebrities who have been in the spotlight for generations, Alain Delon's love life has often been at the center of attention.
After the end of his brief, yet intense five-year relationship with Romy Schneider, Delon decided to marry actress Nathalie Delon in 1964, welcoming a son, Anthony, that same year. The two stayed married until 1969.
Anthony has followed in his dad's steps and is himself an actor these days.
Later, Delon had relationships with actresses Mireille Darc and Anne Parillaud. In the 1980s, he began a two-decade-long relationship with Dutch model Rosalie van Breemen.
From this relationship, he had two more children: a daughter, Anouchka Delon (born in 1990), and another son, Alain-Fabien Delon (born in 1994).
All of his children seem to have inherited their dad's elegant yet effortless beauty.
This is particularly evident with regard to his youngest son, Alain-Fabien, now 28, who is identical to his legendary father
Alain-Fabien – Dad Alain's copy
Alain-Fabien, as well as having the same name as his dad, also shares the same profession.
He's an actor too and has been in movies including Savage Days (2021), Fabio Montale (2001), and Ultra Pure.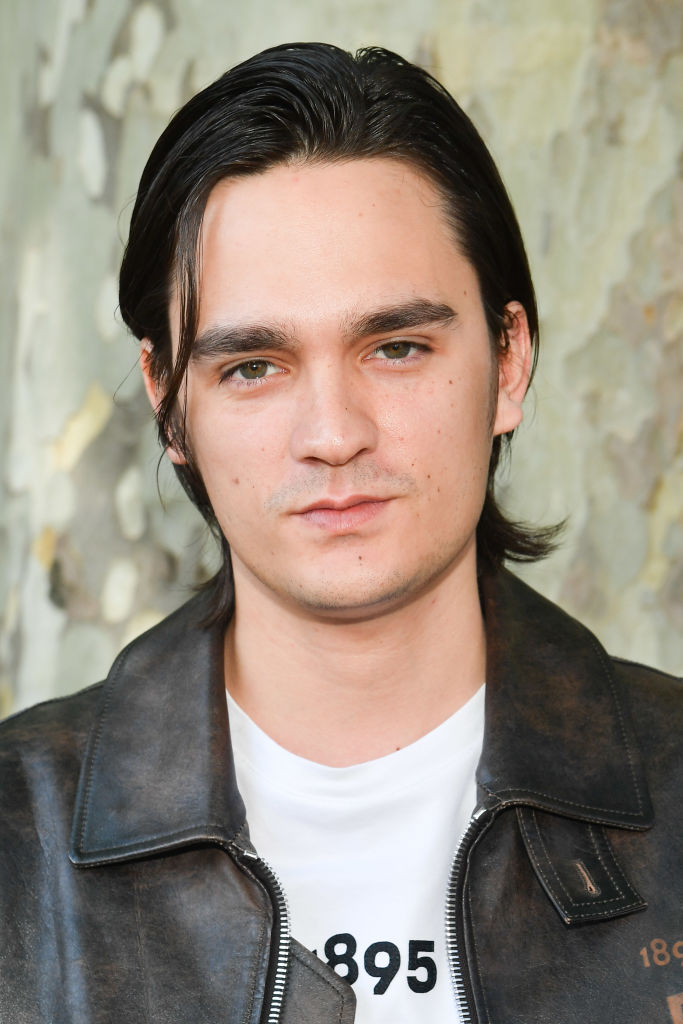 One look at Alain-Fabien and it's clear that he has gotten his dad's compelling, intense blue eyes.
He even shows the same facial expressions that made his father an icon.
We just can't help but see the striking resemblance he bears to his dad!
Two peas in a pod! We wish Alain and his children the best of luck in their careers!
Share this piece with all the Alain Delon fans you know.