Stevie a été repéré dans une arrière-cour en Caroline du Sud (avec un autre chien nommé Wonder), où il avait été enchaîné, probablement pendant les huit années de sa vie. Le chien a été recueilli par un organismes de sauvetage intitulé Diamonds in the Ruff, à New York. Lorsqu'ils ont appris l'existence de Stevie, ils se sont immédiatement dit qu'ils devaient en faire un membre de leur famille de sauvetage.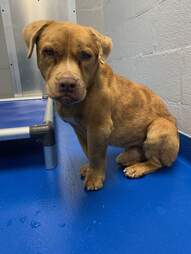 Lorsque Stevie est arrivé aux soins de Diamonds in the Ruff, il était évident qu'il avait beaucoup de problèmes. En plus d'être aveugle, Stevie souffrait de puces, de vers et de fourrure manquante. Les vétérinaires se sont finalement rendu compte qu'un vieil épi de maïs était coincé dans ses intestins et qu'il devait subir une intervention chirurgicale pour le retirer.
"Il a dormi pendant la majeure partie du trajet jusqu'à la maison, mais il grognait et aboyait de temps en temps dans sa cage", a expliqué Erin Boyd, la mère adoptive de Stevie. "Nous savions qu'il faisait ça pour se protéger. Lorsque nous sommes rentrés à la maison, nous avons ouvert la porte de la cage, mais il ne voulait pas en sortir. Nous étions très prudents, sachant qu'il ne pouvait pas voir et que nous ne le connaissions pas encore très bien."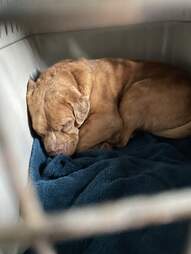 Lorsque Stevie a commencé à guérir physiquement et émotionnellement, il a commencé à sortir de sa "coquille", et il n'a pas fallu longtemps pour qu'il se transforme en une véritable boule de poils.
La famille d'accueil de Stevie savait qu'il n'avait probablement jamais eu de lit doux pour dormir, alors ils lui en ont acheté un. Dès qu'il a senti la douceur du lit avec ses pattes, il a été très excité et a immédiatement sauté de joie.
Maintenant, chaque fois que Stevie voit un lit pour chien, il fait son petit numéro de saut.
Malgré sa cécité, Stevie s'est très bien adapté à son foyer d'accueil et tout le monde est impressionné par les progrès qu'il a accomplis.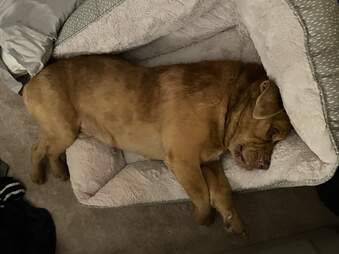 Stevie a traversé beaucoup d'épreuves, mais maintenant qu'il a ses lits de chien confortables et beaucoup d'humains pour l'aimer, il sait que tout ira bien.